Basement Sump
Here's the basement bathroom. Kris got in there before I took pictures and water proofed the walls and then sponge painted them.


Then we got this epoxy flooring stuff that was made for garages and coated the concrete floor with it. This stuff is supposed to withstand all manner of chemicals so we are hoping salt water won't affect it too much. You can also see that we are letting our kittens hang out in this room temporarily...


Went to Quality Farm and Fleet and bought the 100 gallon rubbermaid feeder tub. Got a great deal on a used Iwaki 70RLT pump from our LFS and went to Lowe's and picked up some plumbing supplies. This picture shows the tub after drilling it, putting in a 1" bulkhead and doing an initial bit of plumbing. The red handles are obviously ball valves. The disk shaped parts near them are unions. We decided on the Iwaki 70RLT after doing the math to figure the head pressure required to go up to our tank and were happily suprised to find one used at our LFS.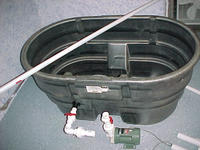 So... after a wee bit of plumbing, we have it online. Everything is working great. I don't have the overflow pipe (from the tank) doing anything fancy yet because I'm still debating clever solutions to skimming and bubble reduction. We dumped a bit of sand off to one side and put a couple of macro algae in it. Running a 96W PC light 24x7 for a while... suprisingly the algae in the actual tank is already reducing... so that's good.

The next step is to put a acrylic divider into the sump seperating a large refugium area away from the sump area so that sand doesn't get sucked into the return pump and so that we can have a deep sand bed. I built this little divider. The big holes are just over the height of the proposed sand bad and the top of the divider is about 2" below water level. Should allow adequate waterflow in and out but not so much as to stir up the sand.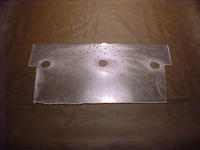 This was the first time I've ever worked with acrylic at all and its tempermental to work with (I cracked the first try beyond usefulness). This one is a little rough at the bottom but quite useable.